Top 10 things to do in Goa this Monsoon
Well the monsoons are at its peak…its raining, its pouring and Goa is greener!! Monsoons in Goa has its own charm. The lush green paddy fields, overcast skies..Although it's the off season in Goa, holidaying in the monsoon can be an equally enjoyable trip! Here are the top 10 things to do in Goa between June to September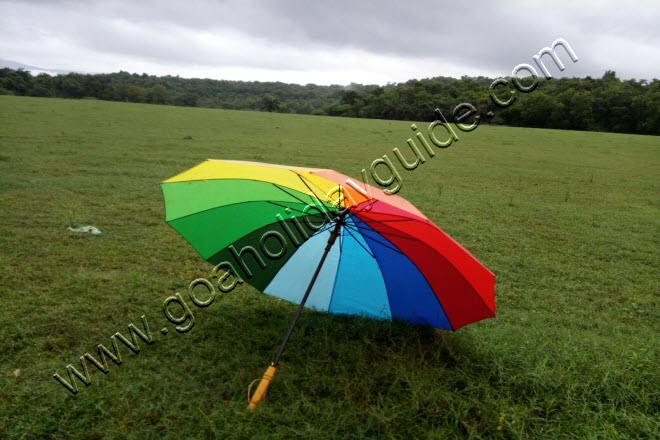 The iconic Dudhsagar waterfalls are a must see during the rains. These waterfalls come to life, resplendent in its full glory during the monsoons and are a sight to behold. These falls are located on Goa's border with the state of Karnataka and is around 60 km from Panaji. There are tours organized by the Goa Tourism Development Corporation or you can take a train or hire a cab.
Besides the Dudhsagar waterfalls, there are more waterfalls worth a visit in the monsoons.
Arvalem Waterfall, Sanquelim, North Goa
Charavane waterfall, Valpoi, North GoaSirsaim waterfall, Tivim, North Goa
Netravali waterfall, Sanguem, South Goa
Bamanbudo waterfall, Canacona, South Goa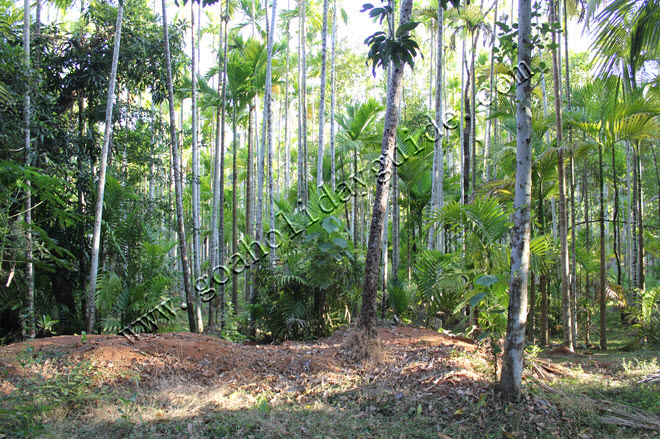 A visit to the spice garden during the monsoon is highly recommended. Besides being an eco friendly tour, it's a fun way to discover and learn so much more about the different spices, its medicinal properties and the way its cultivated , all in their natural state. You can also buy fresh spices, oils etc. Natures treasures indeed!! Also the lunch served here, simple and homely food enriches the overall experience at the spice garden. The cool monsoon breeze, plants wearing the brightest hues and the birds and the butterflies, definitely an experience to savor.
Savoi Plantations, Ponda, North Goa
Sahakar Spice Farm, Curti Ponda, North Goa
Pascoal Spice Village, KhandeparPonda, North Goa
Parvati Madav Park Plantation, Keri Ponda, North Goa
Sai Herbarium, Savoi Verem, Ponda, North Goa
Tropical Spice Plantation, Ponda, North Goa
Rustic Plantation ,Dongurli Goa
White water rafting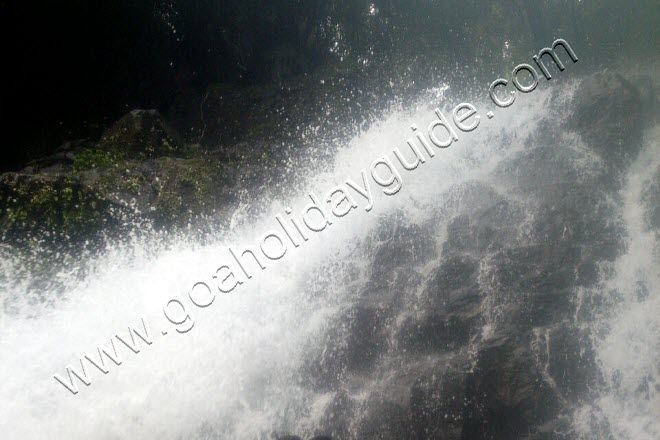 Heres something for those looking for adventure. White water rafting is conducted from July to September. This white water rafting is held on the river Mhadei in village of Valpoi along the Mhadei wildlife sanctuary. As they say depending on the rapids and the water levels the trip can last anywhere between two and a half to three hours, including transport to and from the river. You can book your trip at Goa Rafting!!
Goa Rafting, Valpoi, Sattari, North Goa
Atlantis Watersports, Valpoi,Sattari, North Goa
Trekking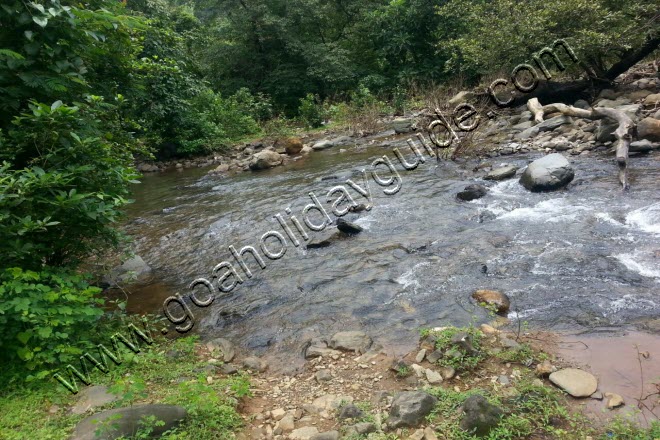 Goa has a number of hiking trails. These trails vary in length and roughness of terrain Booking a guide or joining a tour group is advisable. The diversity in plants and animals makes this place a haven for eco-tourists and nature lovers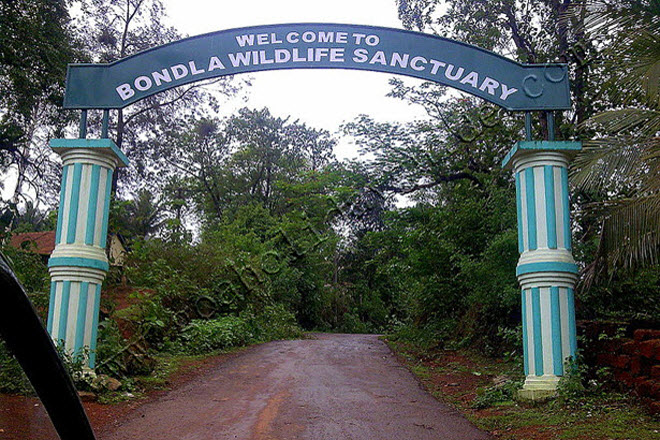 Although a lot of people visit the wildlife sanctuaries from October to March , Monsoons is when nature is bursting with colors. Besides the colourful flora ,You can expect to see a wide range of animals such as Indian gaur, Barking deer, Sambar deer, Asian palm civet, small Indian civet, Wild boar etc. The sanctuary is also home to more than 255 species of birds. Birds such as Nilgiri wood-pigeon, Malabar parakeet, Malabar grey hornbill, Grey-headed bulbul, Rufous babbler, White-bellied blue-flycatcher can be spotted.
Bondla Wildlife Sanctuary, Usgao, North Goa
Bhagwan Mahavir Sanctuary, Sanguem, South Goa
Mhadei wildlife sanctuary, Sattari, North Goa
Cotigao Wildlife Sanctuary, Canacona, South Goa
Salim Ali Bird Sanctuary, Chorao Island, North Goa
Netravali wildlife Sanctuary, Sanguem, South Goa
Book a stay at a resort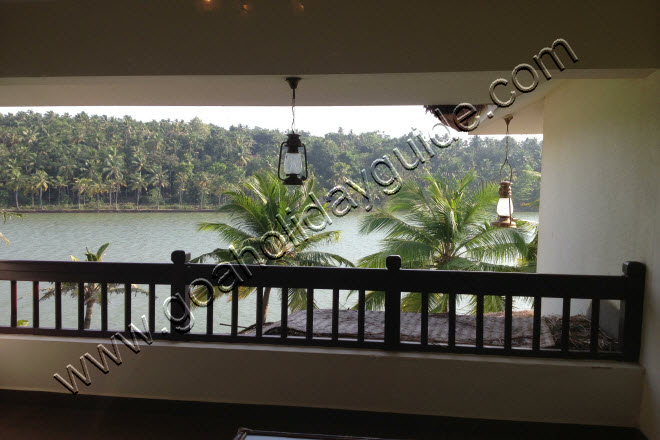 Most resorts offer exciting monsoon deals. The wildernest resort is one of the places to stay nestled among nature. Stay at a cottage and enjoy meals, eco tours and walks admiring the greenery the season has to offer.
Explore the Countryside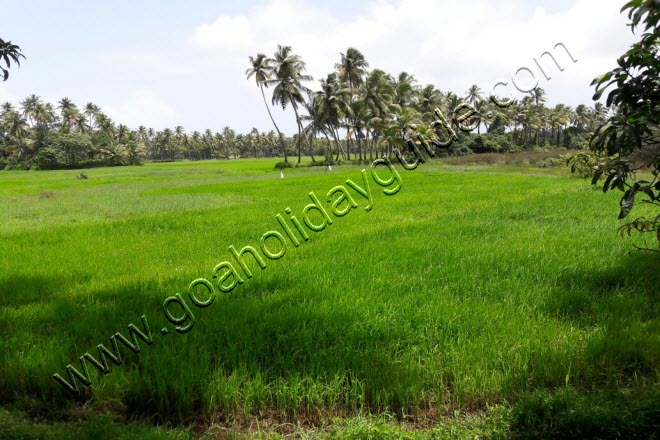 Goa is at its greenest. Rent bike and ride around the villages or take a short walk soaking in the beauty of Goa's villages.
San joao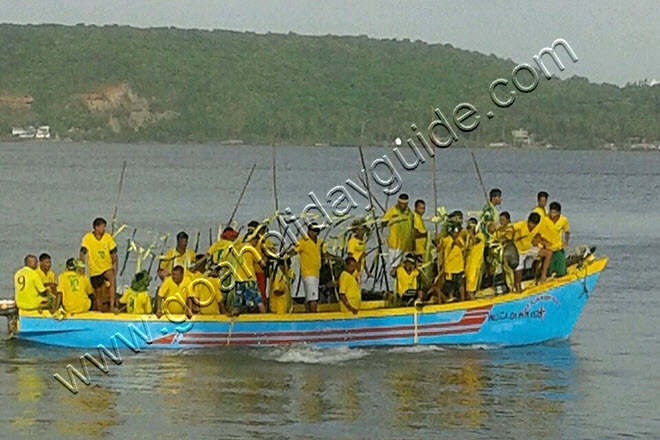 Sanjoao is a fun filled festival celebrated on the 24th of June, commemorating the feast of st John the Baptist.Villagers gather and play the ghumot, sing songs and splash in the village wells.People distribute a platter of fruits and sweets to celebrate any happy ocassion, be it a wedding or a birth in the family. Also on this day many villages organise the Sangodd which is a festival wherein boats are decorated, with colourful buntings.
Chikalkalo Chikalkalo is a traditional festival celebrated at Marcel in the taluka of Ponda. Devotees gather at the Devaki Kirishna temple and sing bhajans. Later they splash around in the mud which has turned slushy due to the rains. This festival is celebrated on the 11th day of the hindu month of Aashadh.
Touxeanchem fest This feast is celebrated at St Anne church Telaulim in the Tiswadi taluka on the 26th of July. Married couples seek blessings and offer cucumbers at the feet of st Anne, who is said to have been blessed with a child after 40 years of barren life.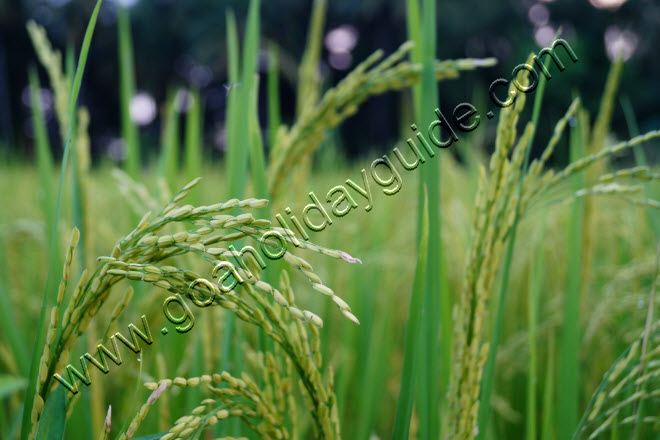 This feast is celebrated on 15th August. The Priest blesses the first harvest and cuts a few sheaves of Paddy.
Bonderam Bonderam is a colourful festival celebrated on a grand scale on theisland of Divar. It is a popular monsoon festival the history of which dates back to the Portuguese era.It is said that there used to be land disputes between the villagers. Boundaries were demarcated with flags to end these disputes.This festival reminisces that time and is accompanied by a colouful float parade and music.
Ganesh Chaturthi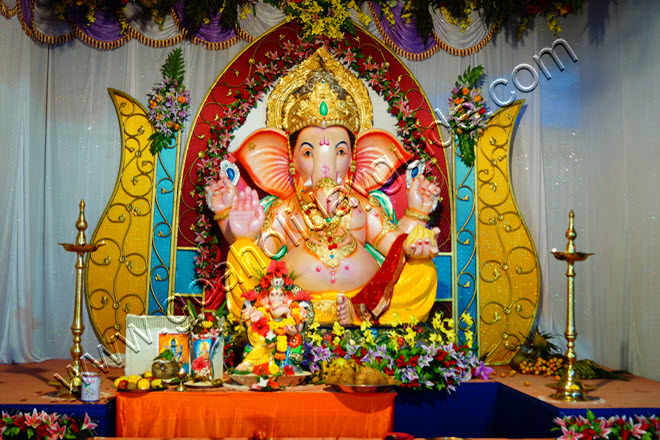 Ganesh Chaturthi is one of the most awaited festivals. It is celebrated with great enthusiasm and excitement among the Goan hindus.
Enjoy the local cuisine
For the vegetarians and the non vegetarians there is always something special goan cuisine has to offer. Sample the local dishes, a blend of flavours while you enjoy a satisfying meal to the sound of raindrops outside the window
Relax and enjoy the rain
Check out some more Tourist Attractions on Goa Holiday Guide!!